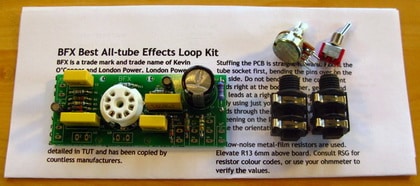 London Power's kits allow the hobbyist or amp builder to add features to an existing project or to build a new project from scratch. Each kit contains the circuitry relevant to itself. For example, a preamplifier kit contains the circuitry that makes up the audio signal path ONLY; the kit will require a power supply  to support it.
All of our kits use high-quality components, including: metal-film 1% tolerance resistors; flame-proof metal-oxide and wire-wound resistors where required; long-life electrolytic capacitors; plastic and ceramic capacitors; select semiconductors; ceramic tube sockets; industry-standard jacks and pots. The pots and jacks have PC-pins and we include small PCBs to mount them on and for the wiring to be easily attached to.
Our printed circuit boards use twice the industry standard for copper thickness to assure reliable and reworkable connections. For some kits, you can order just the PCB and notes, or also the "hard to get parts" unique to the board. For either of these variations, the pot and jack boards are not included.
Kit notes include the schematic of the kit, the board layout, installation and mounting instructions. Some kits include mounting hardware if there is a single way to mount the board. Kit notes are only available with the kit. For tutorials on how a given kit or circuit functions, refer to our books.
The product description for each kit contains dimensions for the PCB, dimensions of the assembled kit, and some information about the kit's function. Tube-based kits DO NOT include the tubes. Tube-based kits can usually be mounted two ways and the PCBs are silk-screened on both sides of the board. A special mounting instruction note is included with these kits.
The assembler must provide wire, solder and a chassis to support the kit safely, as required or as relevant to the kit.