Description
Aluminum rack-mount chassis 1U tall (1.75″, 44mm) and choice of 8″ deep (203mm) or 13″ deep (330mm). Textured black paint, except on the interchangeable front and rear panels which are smooth white and smooth black. These are a standard Hammond product.
This chassis is ideal for a single or multiple preamp kit(s) plus power supply. For instance, our Preamp Power Supply (PSU-PRE) mounts horizontally, with the PRE board(s) mounted vertically using right-angle brackets. Tubes are necessarily horizontal. Ventilation is good. Use with any of these London Power tube preamp kits: F-PRE, D-PRE, LP-PRE, M-PRE, S-PRE or Z-PRE, and/or with our Best All-Tube Effects Loop Kit (BFX) BFX and Dual Output Buffer Kit (LINE).
Note: When incorporating multiple kits, e.g. to produce a 3+ channel preamp, use the 13″ deep chassis rather than the 8″. With tubes, space is your friend 🙂 .
Ideal for fully featured stand-alone effects loops using our BFX kit or multiple BFXs powered by PSU-PRE.
The image above shows the 8″ chassis with rack ears attached and using the white face on the front.
Here is the unit with rack ears removed and with the black face forward: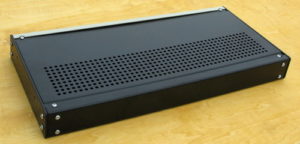 And here are the removable rack ears:
See our "Rack-Mount Chassis" page for more information.